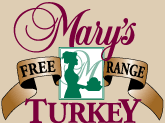 mary@marysturkeys.com
Call Mary At:


(888)-666-8244






















Plastic Clip
, DO NOT cook turkey with plastic clip. Please remove Plastic Clip holding the drumsticks by pulling the top piece outwards, away from the bird. This will release the drumsticks. Remove plastic clip by twisting clip or cutting plastic and pull hard.
Family Owned and Operated

Mary's Free Range Turkeys is proud to be family owned and operated since 1954. Mary's son, David Pitman, is a third-generation Pitman farmer that leads the company today. David and his brothers have been taught by their father Rick, who learned from his father Don, about the importance of animal husbandry and our responsibility to protect the welfare of animals.
Mary's Free Range Turkey, Mary's Organic Turkey and the Mary's Heritage Turkey are:

• Free-Range
• Vegetarian Fed
• Gluten Free
• Are NEVER given Antibiotics….EVER
• No Preservatives
• No Hormones
• Raised in California
Mary's Free Range Turkey


These turkeys are raised on healthful grains and allowed to roam in areas four times the size of the average commercial turkey ranch. Their high protein diet provides the optimum amount of nutrients for the turkey to grow into a bigger and more flavorful turkey than one typically found in the supermarket. You won't find any antibiotics, animal by-products, preservatives or hormones in a Mary's Free-Range Turkey.

Mary's Certified Organic Free-Range Turkey


Mary's Free-Range Organic Turkeys are an additional step up the ladder in humane farming practices; with freedom to move about and a premium diet void of any chemical stimulators. Certified Organic feeds must be Certified by the USDA and everything that goes in them must be certified as well. Mary's Organic Turkey feed does not contain any of the following:
• NO Animal By Products
• NO Genetically Modified Organisms (GMOs)
• NO Antibiotics
• NO Pesticide Treated Grains
• NO Grains Grown with Chemical Fertilizers
• NO Synthetic Amino Acids
Mary's Free-Range Heritage Turkey


The heritage turkey is based on the first breed of turkeys that existed in the United States. They breed naturally, as well as run and fly! These extra activities result in larger thigh meat, and slightly less breast meat than a typical turkey. All of these traits result in a superior taste that takes less time to cook than a regular turkey!



Mary's Heritage Turkey Video
From the first juicy, satisfying bite of a Mary's Free-Range Turkey, you'll know that this bird is something special. Natural, Plump, Tasteful. That's a Mary's Free-Range Turkey. Since 1954, the Pitman Family has raised turkeys for the Thanksgiving holiday.

Today, with more and more companies introducing "Free Range" products, we want every consumer to experience the difference Mary's offers. To do that, we've focused on quality, not quantity. Mary's perfect Free-Range bird begins life on a farm in the Central Valley. Roam means lots of room, with four times more living area than you'll find at most commercial turkey farms.

Every bird grows naturally with plenty of open space where it can grow healthfully in a caring environment. The Pitman family has built its reputation by growing fewer, but superior Free-Range turkeys year after year.

A key reason Mary's Free-Range Turkey offers superior taste is the high protein diet complete with the finest grains and vegetable proteins that provides just the right amount of nutrients for the turkey to grow bigger and better developed than other birds you'll find at the supermarket.

And you won't find antibiotics, animal by-products, hormones, preservatives or additives in a Mary's Free-Range Turkey. Instead, when you purchase a fresh home grown Mary's Free-Range Turkey, prepare yourself for a dining experience that you and your family will remember forever...
Click Here To