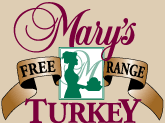 mary@marysturkeys.com
Call Mary At:


(888)-666-8244




















---
1. Thaw Your Turkey in advance

(Click here for Thawing Instructions)


2. Use a Thermometer

(

Click here for what type of Thermometer to Buy

)
3. When the Turkey reaches 165-170˚ in the turkey's thigh, they turkey is done. (Heritage Turkey 150-155˚)
Roasting Times
Heritage Roasting Times

Unstuffed Turkey

Unstuffed Turkey

Weight

8-12

12-14

14-16

16-18

18-20

20-25

25-30

325˚ Roasting Time

1½ to 2½ hours

2½ to 3 hours

3 to 3¾ hours

3¾

to 4 hours

4

to 4½ hours

4½ to 5 hours

4

½

to 6 hours

Weight

8-12

12-14

14-16

16-18

18-20

20-25

25-30

325˚ Roasting Time

1¼ to 2¼ hours

2¼ to 2¾ hours

2¾ to 3½ hours

3½

to 4 hours

4

to 4½ hours

4½ to 5 hours

4

½

to 6 hours

Done

165-170˚ degrees in Thigh

Done 150-155

˚

degrees in Thigh
Why do some cookbooks have longer cooking times?

They are outdated. You will dry out your turkey if you follow those cooking charts. Once the turkey meat is no longer pink, it is done. Any cooking after that will dry out the turkey and make it tough. Unlike meat that gets more tender the longer it cooks, turkey gets tough and dry the longer it cooks.

Why does the meat thermometer say for poultry 180-185 degrees?

Research shows that bacteria is destroyed at 165˚ degrees. Do NOT cook your turkey to 180-185˚ degrees. This will dry out your turkey. Take your turkey out of the oven when the meat thermometer reaches 165-170˚ degrees and let it rest for 20-30 minutes. The meat will be pink towards the breast bone at 165˚, but very moist. If that bothers you, cook until 170˚ degrees in the thigh. Different Type of Thermometers.