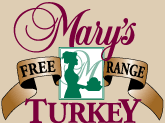 mary@marysturkeys.com
Call Mary At:


(844)-444-MARY (6279)



















---
Submerging the turkey in seasoned water produces moist, flavorful meat but is not something home cooks with a refrigerator full of holiday foods can easily do. You will need a pot large enough for the bird to be submerged in about 2 gallons of liquid for 24 to 48 hours. The pot (a large stock pot or plastic bucket) will be heavy, so put it on the bottom of the refrigerator.

Alice Waters founder of Chez Panisse in Berkeley, Calif., marinates organic free-range turkey in well-seasoned brine that includes diced vegetables and seasonings like fennel seeds, coriander seeds and red pepper flakes. A simple variation can be made with 2 gallons water, 3/4 cup kosher salt, 3/4 cup sugar, 2 bay leaves, 1 bunch fresh thyme, 1 halved head of garlic, 5 allspice berries and 4 crushed juniper berries.

Mix the brine in a large pot, and heat it gently until the salt and sugar dissolve. Chill it completely before submerging the turkey. When brining is complete, drain and pat the bird dry with paper towels before roasting.
Honey Brined Turkey
Provided By Bon Appetit
Makes 14 to 16 servings
1 19 to 20 Pound Turkey, Neck, Heart and Gizzard Reserved For Gravy
8 Quarts Water
2 Cups Coarse (Kosher) Salt
1 Cup Honey
2 Bunches Fresh Thyme
8 Cloves Garlic, Peeled
2 Tablespoon Coarsely Cracked Black Pepper
2 Lemons, Cut In Half
2 Tablespoon Olive Oil
5 Cup Low-Salt Canned Chicken Broth
Line extra-large stockpot with heavy large plastic bag (about 30 gallon capacity). Rinse turkey, place in plastic bag. Stir 8 quarts water, 2 cups coarse salt and 1 cup honey in large pot until salt and honey dissolve. Add 1 bunch fresh thyme, peeled garlic cloves and black pepper. Pour brine over turkey. Gather plastic bag tightly around turkey so that the bird is covered with brine, seal plastic bag. Refrigerate pot with turkey in brine at least 12 hours up to 18 hours.

Position rack in bottom third of oven and preheat to 350 degrees F. Drain turkey well, discard brine. Pat turkey dry inside and out. Squeeze juice from lemon halves into main cavity. Add lemon rinds and remaining 1 bunch fresh thyme to main cavity. Tuck wings under turkey, tie legs together loosely to hold shape. Place turkey on rack set in large roasting pan. Rub turkey all over with 2 tablespoons olive oil.

Roast turkey 1 hour. baste turkey with 1 cup chicken broth. Continue to roast until turkey is deep brown and thermometer inserted into the thickest part of the thigh registers 165-170 degrees, basting with 1 cup chicken broth every 30 minutes. Transfer turkey to platter. Tent turkey loosely with foil and let stand for 30 minutes. Pour pan juices into large glass measuring. Spoon off fat, reserve juices.